Inspired Generosity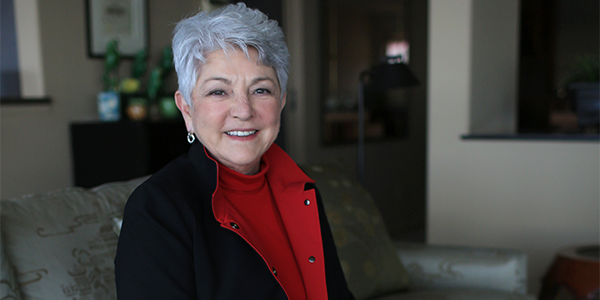 Betty Woods' relationship with Seattle University began more than 40 years ago during what she describes as a vulnerable time in her life. A housewife and mother, Betty was in her early 30s before she was able to begin her college education. After community college, Betty applied to Seattle University and was awarded an academic scholarship.
"It was extraordinary for a university to give a scholarship to a 34-year-old woman," she says. "This was 1972, when women were just beginning to return to the workforce. The Jesuit education I received at Seattle University prepared me for a career. It reinforced my values and deepened my spiritual life. It helped me gain a greater awareness and understanding of who I am."
As a psychology major focusing on organizational development, Betty learned valuable conflict resolution and communication skills. She became a leader with the confidence to take risks that paid off during her successful career. Betty was the first woman in the country to become the CEO of a Blue Cross Blue Shield company. It comes as no surprise that Betty is a generous supporter of Seattle University through ongoing scholarship support and active service on the Board of Trustees, which she chaired from 2010 to 2014. She has also designated Seattle University as a beneficiary of her IRA.
"When you make Seattle University your IRA beneficiary," Betty explains, "You can continue taking withdrawals from the IRA during your lifetime and leave the remaining funds to the university." It's a gift she calls "a total win-win" because of the tax benefits to both giver and recipient.
Betty urges those who are doing estate planning to consider a legacy gift to Seattle University. "You can make a gift that will live on after you," she says. "For evidence that the funds will be put to good use, all you have to do is look at programs like Fostering Scholars, the Youth Initiative, theology and ministry projects-and scholarships, of course."
Adds Betty, "The formation of leaders for a just and humane world is in the fiber of this university. Students get a very high quality education that prepares them for a profession. They also learn to see the world as a place where they can serve and make things better, in whatever capacity they choose."