A Planned Gift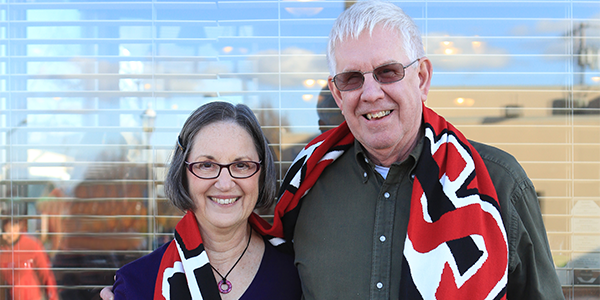 The friendship of Dave Madsen, an associate professor in Seattle University's history department, and Mike Koenig, of Koenig Financial Group, goes way back. The two first met when Dave was an incoming sophomore and Mike was his resident advisor in Seattle University's freshman dorms. Dave, a scholarship student, received his BA in Latin and Greek, and went on to earn a PhD in Classics at the University of Washington. Mike, a class of 1967 business major, began selling life insurance while still in school and Dave was one of his first customers.
Over the years the two have remained friends and Mike is now financial advisor for Dave and his wife, Mary Anne, the self-described "saver" in the family. A registered radiation technologist, Mary Anne received her BA in business from Seattle University, as a non-traditional student, working during the day and attending classes at night. "Seattle University paid for both of our educations, and for our two children's, as well," says Mary Anne. "We feel we have an obligation to pay it back, so other students can have these opportunities in the future."
Dave, who has taken a leadership role in Seattle University's Honors Program, would love to ensure that future students have access to the rich cultural experiences Seattle offers. So, Dave and Mary Anne included Seattle U as a beneficiary on a retirement account, and that gift will create a fund to support student activities in the Honors Program.
The couple has supported Seattle University since the early days of their marriage. "No matter how little you earn, you have enough to save," says Mary Anne. "And it's also true that you have enough to give back." In the past few years, the couple has turned to Mike for estate planning guidance. He's advised them on the best ways to leave a legacy to their children, grandchildren, and Seattle University.
Dave, the Classics scholar, offers a reason to think about giving now, from the first-century Roman-Etruscan satirist Persius: "nostrum est/Quod vivis; cinis et manges, et fabula fies" which means: Our life is our own today, tomorrow you will be dust, a shade, and a tale that is told." Mary Anne puts it another way: "If you value your education, now's the time to give back."