Academic, activist and philanthropist - a trail-blazer with deep roots on Bainbridge Island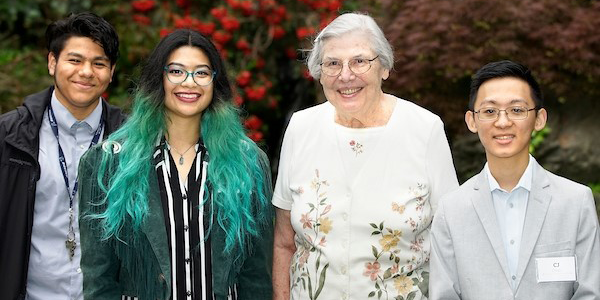 In 2016, Sonya Quitslund, a Seattle University alumna and former adjunct professor who taught summer theology courses, made a generous gift to establish an endowed scholarship for the Fostering Scholars program at Seattle U. Now in its thirteenth year, Fostering Scholars provides a comprehensive program of financial, academic and social support for students who are currently, or were formerly, in the foster care system, in order to help them attain an undergraduate degree. The program's success has made it a national model and one of the only programs of its kind at a national private university.
Several factors influenced Sonya's decision to make gifts during her lifetime to establish and grow the endowed scholarship. She created the scholarship out of gratitude both for her education, as well as for the example set by her parents. Sonya feels that Seattle U provided a strong foundation as she went on to pursue graduate school and a rewarding career as a college professor. Out of gratitude for the role her family, and especially her parents, played in emphasizing the importance of education and modeling hard work, Sonya named the scholarship in memory of her parents: Leona and Phelps Quitslund. Both children of immigrants, Leona and Phelps made Catholic education for their four children a priority - even if it meant that Phelps paid the tuition due to Forest Ridge by giving half of a steer to the nuns, and Sonya had to put her piano skills to use as the school accompanist. In addition, her connection to the Fostering Scholars program is so fitting because she long ago recognized the need at-risk children have for stable homes and extra support in attaining their goals. In fact, when Sonya decided to purchase her first home in 1973, she opened it up over the subsequent years to care for 44 children in foster care, 19 refugees, 15 international students and 10 American students!
After graduating from Forest Ridge in 1953, Sonya received her B.A., magna cum laude, in English from Seattle U. She went on to earn her M.A. and Ph.D. from the Catholic University of America. Sonya spent time in France on a Fulbright Scholarship from 1959-1961. There she worked on improving her fluency in the French language, so that she could be a more effective foreign language teacher in the Edmonds School District. She remembers meeting a very young William Sullivan, S.J., (former President of Seattle University from 1976-1996) while in Paris.
Sonya credits James McGoldrick, S.J., with having a tremendous impact on her life. She recalled that, "For some reason, Father McGoldrick, who was the moving force behind Seattle University going co-ed, took me under his wing. He sought me out every quarter to slip $10.00 or $15.00 into my hand, "For books," he'd say. Back in the '50s, that amount really helped cover book costs. He knew I was working my way through college, so he found me a job that included room and board. He was the one who encouraged me to step outside of traditional roles for women. I went on to study theology in graduate school. Some say I was the first lay woman to receive a PhD in religious studies from the Catholic University of America."
Her PhD project was published as a book, titled, "Beauduin: A Prophet Vindicated." It won the College Theology Society's book of the year award and was reviewed on the front page of the New York Times Book Review section in 1973. In 1967, Sonya became a professor of bible and religious thought at George Washington University, where she taught for 28 years. Sonya founded the Christian Feminists in 1973 out of her work urging greater roles for and recognition of the contributions of women in the church. She later served on the first core commission of the Women's Ordination Conference, now the world's oldest and largest organization working solely for the ordination of women as priests, deacons and bishops in the Catholic Church.
Sonya retired from the academic world to Bainbridge Island, where her great grandfather settled in 1894. One hundred and twenty years later, the Quitslund Family was designated as one of the pioneering historic families in Kitsap County. Sonya lives in the A-frame house built almost single-handedly by her father when he was in his 60's, as a place for retirement. While her Catholic faith and religious scholarship have been central pillars throughout her life - Sonya has always found ways to put her faith and knowledge into action. The Leona and Phelps Quitslund Scholarship for Fostering Scholars continues Sonya's dynamic legacy as a change-agent by providing access for students to a transformative Jesuit education, stable housing, health care and other opportunities to engage fully in the college experience. She enjoys being able to see her gift at work now, and meeting the student recipients, while knowing that the endowment will receive a sizable infusion in the future from her estate, which will assist even more young people attain their goal of earning a college degree.