A Living Legacy of Friendship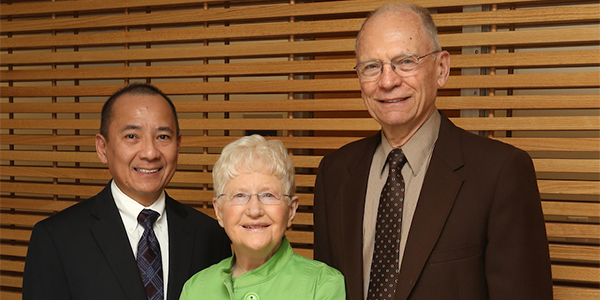 Marie Materi and Fred Brandauer grew-up a world apart, yet came together, according to Marie, for a purpose. "I just knew in my gut that God had brought us together for a reason, because we were of such very different backgrounds."
The son of Evangelical missionaries, Fred grew up in China and is a Professor Emeritus of Chinese Studies from the University of Washington. Marie served for 23 years in the Order of the Sisters of St. Joseph of Peace and earned three degrees at Seattle University. She was a nursing educator and counselor with Everett Community College.
The couple met through colleagues in 1981. Though she had no connection to China, Marie shares that, "I had a profound sense that we would be in a ministry to the Chinese together."
Marie and Fred married in 1982, and shortly thereafter purchased a small house in Seattle's University District. This was to be the start of a unique ministry.
"We bought that house in the early 1980s, a time when China was just opening up," says Fred. "They were sending top people to the U.S. as visiting scholars with little money. Those who came to the UW were living in very poor conditions. Marie and I wanted to help, so we hosted three scholars in our home."
A few years later, the couple started a nonprofit corporation, which they called China Friendship. The nonprofit purchased a home with room for seven more visiting scholars. Eventually, Fred and Marie purchased a third home, which raised their hosting capacity to 14. At the same time they acquired two additional homes, which they rented to students.
Over the years, China's economic status improved. Feeling that they'd accomplished their purpose of hosting the visiting scholars in more difficult economic times, Fred and Marie ended their ministry in 2004. They sold their home and the China Friendship house, and transitioned the non-profit corporation into the China Friendship Charitable Trust Foundation. The Foundation supported the School of Theology and Ministry's Scripture and Leadership Training (SALT) Program's Mandarin translation and cultural adaptation.
In 2014, Fred and Marie transferred all of the Trust's assets into a China Friendship Endowment within the School of Theology and Ministry. The purpose of the endowment is to further theological education with the goal of building and strengthening the Christian Church among Chinese worldwide.
By 2015, upkeep of their three remaining rental homes had become onerous and Fred and Marie felt ready to sell. That's when Sarah Finney, Director of Planned Giving in Seattle University Advancement, connected with them and explained the advantages of a Charitable Remainder Unitrust (CRUT).
"We prayed about it for a long time and gradually came to realize that putting all three houses into a CRUT was a good way to go," says Fred.
"There were a few things behind this decision," Fred continues. "First, Marie and I feel that those houses were gifts to us and we wanted to put these resources into something meaningful. When the CRUT ends, the remainder will roll into the China Friendship Endowment, giving STM the chance to really do something significant."
"Second, the CRUT enables us to leave a legacy honoring the purpose for which China Friendship was established. Finally, Marie and I have many connections not only with Seattle U, but with STM. We've been happy with our decision."
The CRUT provides Fred and Marie with a lifetime income and eliminates the stress of owning rental properties. There are also tax advantages. The rental homes had significantly increased in value, and Fred and Marie would have had to pay a significant amount in capital gains upon the sale.
"With the CRUT, we won't lose the capital gains, and we can put that money into a lasting legacy. It's not just avoiding capital gains, it's having the full value of the assets to invest. It's a real Win/Win for us."