A Fulfilling Career in Nursing Begun at SU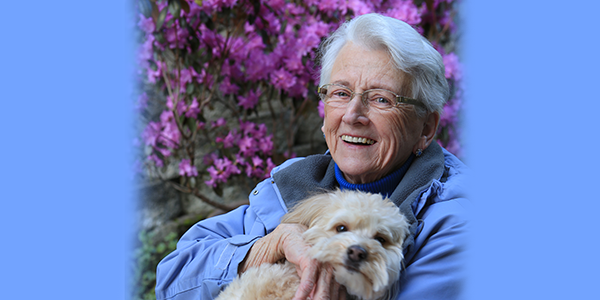 At the age of 12, Joan decided that she wanted to become a nurse. Once she arrived at Seattle U, she knew that she had made the right decision. Joan recalled how she fell right into the rigors of the nursing program, and how much she relished the emphasis on gaining clinical experience. As a student she was assigned to Providence Hospital, with affiliations for psychiatric and tuberculosis nursing at the Veterans Hospitals, as well as for public health nursing at the King County Health Department when it was first offered. She made herself available to fill-in at the hospital as needed on weekends and was quickly considered to be a very good nurse. That initial feeling of validation by her professors, as well as the medical staff in the hospitals, left a lifelong impression on Joan. It is a feeling that she wants to help instill in today's nursing students at Seattle U.
In 2015, Joan created an endowed scholarship in her name to support students at the College of Nursing. She has also made provisions to add a significant percentage of her estate to her endowed scholarship, which will continue to make annual awards to nursing students in perpetuity. Joan says, "It's a really good feeling to be in this position. It is my turn to give back because I got so much out of my SU experience. I felt right at home in the nursing program and had a rewarding 45-year career supporting my family and helping others!"
After spending the first seven quarters on campus and meeting the remainder of her requirements in clinicals, Joan graduated and was hired by Providence Hospital in Seattle. She worked as a treatment nurse on what was then called the women's surgical floor. A year and a half later, she moved to California to continue her career. Joan remained in California for more than 50 years, working in San Francisco, Long Beach, Alameda and Orange County in a variety of roles, including with the Visiting Nurses Association, public nursing and discharge planning. Her favorite type of nursing was home health care because she enjoyed the diversity of the patients and the personalized attention she could give.
While in California, Joan also started investing in real estate after her husband died tragically and she was left to support their two young children on her own. Although Joan retired from nursing several years ago, she continues to manage her real estate investments. She chose to return to Washington and to re-connect with Seattle U because her alma mater played such a pivotal role in the course of her life and career. Today, Joan, and her adorable little Havanese dog, Sunny, are enjoying life in Redmond. Joan comes to campus each year to visit with the student recipient of her scholarship. Although she's no longer working directly with patients, some 60 years later, Joan finds validation in her new role as a scholarship donor helping talented SU nursing students, like she once was, find rewarding careers.