Linda and David Strout: A Gift by Will in Gratitude for Their Legal Education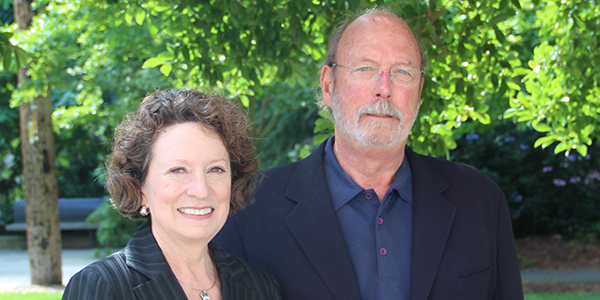 Not ones to shy away from ambitious volunteer roles, Linda and David are serving as Co-chairs for the School of Law Legacy Society Committee. The Committee's work is aimed at increasing the number of future gifts, such as gifts by will, trust, and beneficiary designations, in support of SU Law. Over the next two years they hope to double the number of Legacy Society members from the current 48 alumni and friends of the School of Law. Linda and David decided that this was one of the best ways to give back to the school that put them on a wonderful path, not only to finding each other, but to meaningful careers and opportunities for service. By making it known that they have committed a percentage of their estate to the Seattle University School of Law, they are inspiring others to include philanthropy in their estate plans – particularly for SU Law alumni like themselves, who wish to give back in gratitude to the school that has played such a pivotal role in their lives.
They met as first year law students at the University of Puget Sound in 1976, before the School of Law was acquired by Seattle University, and were married in 1979. Linda and David skipped graduation to take off on a road trip across the U.S. and Canada for their honeymoon. From that time on, their lives together have been a meaningful mix of work, travel, and community involvement.
Linda grew up in Seattle, attended Queen Anne High School, and graduated from the University of Washington. Her earliest career was in banking, followed by a stint as a civilian working for the Department of the Army in Germany. David grew up north of Boston, Massachusetts and attended Colby College in Maine. After college, he worked tending bar in Washington D.C. until he was offered an opportunity to join Senator Edmund S. Muskie's 'advance team' during the Senator's campaign as the Democratic nominee for Vice President in 1968. David did advance work for campaign events again in 1972, for Senator Muskie, and then for Senator M. Henry (Scoop) Jackson in 1976.
About his decision to attend law school far away in the other Washington, David says, "I didn't get into the University of Maine law school, and someone on the Jackson campaign staff told me about the University of Puget Sound." David received a partial scholarship as well as selection to law review as a result of his class rank after his 1L year. For these reasons, David feels it is imperative to give back. Even when he had more time than money to give, he volunteered many times as a moot court judge for student competitions. Following graduation, David was a clerk for Federal District Court Judge, Jack Tanner. He then entered civil practice and eventually co-founded Bush Strout & Kornfeld, a nationally recognized firm focused on commercial debtor and creditor issues, as well as corporate restructurings. With David's retirement last year, the firm is now known as Bush Kornfeld. David has also enjoyed serving as an instructor at the Law School's week-long Advanced Trial Advocacy Seminar.
Linda retired in 2010, after 21 years with the Port of Seattle, where she served as General Counsel for over 12 years. During the final six years of her tenure, she served as the Deputy CEO for two different Port CEO's. Her work included participation in several trade missions abroad, including one headed by Gov. Christine Gregoire to several European countries. She also had a front-row seat throughout the decade it took to resolve 21 pieces of litigation over the third airport runway at Sea-Tac, before the Washington Supreme Court finally granted permission for the Port to build.
Their current role with the School of Law Legacy Society follows on a long record of service and giving back to the school and the profession that has served them so well. Both Linda and David have held numerous volunteer leadership roles in the legal community as well as with the Law Alumni Board at SU, and it all started with that fateful first year of law school together in 1976. Linda and David have decided to support future law students at Seattle University because they know first-hand all of the opportunities that are created here for lives rich in service, meaning, and connection to community.